To Richard Gonzmart, Columbia Restaurant Group
Dear Mr. Gonzmart,
I think it is time to rename Ulele.
It is nothing short of amazing how popular Ulele is with the Tampa crowd. I am sure you are quite aware of how many locals come by for a meal on any random night.
It's well deserved, too. The food is fantastic, the service is great, and there's even a gallery of Tampa Bay Lightning jerseys; all of which makes me very happy.
But the beer, Mr. Gonzmart. It's the beer that just sets it over the top. Your brewmaster Tim Shackton is an absolute wizard in the brewhouse, and it's tme to recognize him. Therefore, I would like to heartily recommend you rename the retaurant 'Ulele feat. Tim Shackton.'
You may scoff, but if you can get to the restaurant and get a pint of his new Imperial Honeymoon Lager (Lager, 5% ABV), you will easily be able to understand eactly how good he is. Please forgive me, but I have a lot of readers that may not have tried this yet. It's brand new, this is to be understood.
If I may explain it to them, this is Ulele's Wedding Beer, but pumped up a bit and with the berries in the recipe exchanged in favor of incredibly fresh and flavorful Plant City strawberries. The beer was then aged in Jordan Family Vineyard 2015 Chardonnay barrels. All of that does not even come close to describing how good the beer tastes.
Its nicely sweet, with both the great fruit flavors and a really interesting caramel note coming from a slightly darker, more concentrated malt. I am sure you have had a pint or two, Mr. Gonzmart. You are a lucky man.
As I was speaking with Mr. Shackton, he drew two small tasters of Buckhorn Stout (Stout, 5% ABV), one nitro and one a CO2 pour. You can tell which is which from the photo above. I must say, however, that the CO2 pour is great, with a strong presence and light notes of chocolate and coffee. The nitro pour is all of that and so much more. Creamy, velety, and overly accentuates all the great flavors. Please keep the nitro tap. I'm sure the beer's namesake Mayor Bob Buckhorn would approve.
I was also fortunate to grab some Magbee's Honey Lager (Lager, 5% ABV, 18 IBU) and Green IPA (IPA, 6.2% ABV, 65 IBU), two fairly different beers, but both incredibly well crafted. The honey lager, using fresh local honey and named for a fairly colorful local judge and Senator, is rich and deep with a fantastic sugary side. The IPA is as far removed from that as you can get, a big and incessantly bold IPA laden with giant hops and huge Alpha Acids. The quintessential Tampa beer.
None of that, and I mean none of that, is anything nearly as good as the Honey Berliner Brett (Berliner Weisse, 3.5% ABV) that Mr. Shackton has released. This is truly a masterpiece, Mr. Gonzmart. When you rename the restaurant and build Tim's statue out front, he should be holding a pint of this in his hand.
It's a fantastic mix of a light, fine honey malt, a fantastically funky brettanomyces bacerial blend, and aged in bourbon barrels. Holy crap that's an incredible mix. There's a fantastic mix of light and slightly fruity flavors combined with a slight bite and fun funkiness from the brett. This is not nearly as sharp and tart as other berliners; that barrel aging goes a long way in mellowing the flavor and adding a meaty dimension to the flavor. Beer snobs like me will never drink this beer; it's too enjoyable to sit and take in the aroma.
In closing, Mr. Gonzmart, You have a fine restaurant in Ulele. I'm a huge fan of Columbia, but Ulele has become the jewel in the crown. Tim Shackton and his incredible recipes have a lot to do with that. I look forward to coming back once you officially reopen the restaurant with its new name.
Can I get a table by the jerseys?
P.S. A special thank you to Jeff Houck and Tim Shackton for their hospitality.
Drink Florida Craft,
Dave
floridabeerblog@gmail.com
A Top 35 Global Beer Blog from Sparpedia.ch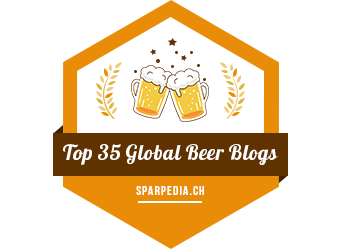 A Top 40 Florida Blog from Feedspot.com