Hernando County is a good drive north from Tampa, about an hour or so. It's main tourist attraction is Weeki Wachee State Park, home of the dancing mermaids (just as long as you ignore the air hoses in the background). Just a bit north of the park, maybe 10 minutes, is the home of Marker 48 Brewing.
Built out of an old car repair shop, husband and wife team Maurice and Tina Ryman opened the brewery in 2015 as the only full production brewery in the county. The Rymans, plus Tina's brother and Marker 48's brewmaster John, found the location after a fair amount of searching. They actally found it as the realtor was putting up a 'For Sale' sign outside the shuttering repair shop.
The brewery's name has almost nothing to do with beer or the brewery's location on Highway 50. The Rymans actually own a little land and fish camp on the nearby Homosassa River, right on (as should be plainly obvious) Marker 48. Interestingly enough, the brewery is holding a year-long contest with one of the prizes being a fishing trip at the campsite.
That content is run as part of their famous Passport program. For $100, visitors can buy a passport that will give them a draft of a weekly small batch beer. That beer could be literally anything, from strictly traditional to incredibly unique, and each small batch beer redeemed gets you a stamp on the passport. The more stamps you get, the more valuable a prize you can win. It just started in Feb., so there's plety of time to get a passport.
The entire staff is nothing is not incredibly personable.
Maurice and I spent a good chunk of time chatting, he telling me about their penchant for RVing across the country and visitng breweries wherever they visited. That was the impetus for building Marker 48, as their native Henando Co. didn't really have anything like it as of yet.
Soon enough we were joined by the outsized personality and booming voice of their resident tourmaster and famed Florida beer author Gerard Walen. Not going to lie, the fact that he came over on his day off to meet me was quite something. Very awesome indeed.
We took a tour around the facility while I nursed a pint of Mermaid's Milk (Milk Stout, 5.9% ABV), one of the cleanest and smoothest, most true to style milk stouts I've ever had the incredible pleasure of imbibing. So incredibly good.
The tour started with their rather sizeable beer garden outside, anchored by an authentic Airstream trailer turned into mini-tap room. There are plenty of fire pits on the sizeable artificial grass, a stage for bands, and even a basketball hoop rendered a bit difficult to use with the aforementioned astroturf.
The interesting place to see, however, was their barrel storage room/private event space. Remember how the building was a car reapir facility once upon a time? Well, this room is actually in the pit where the oil changes took place.
Basically, you walk down a small, narrow set of stars into a dark, swanky room festooned with curtains and barrel racks, some of which are being used right now. Since the tasting room tables are directly overhead, they used plexiglass as a ceiling, enabling you to see directly under the tables. I'll let your imagination run wild with that.
The room isn't without an interesting story, since the mechanics tipped over and filled the room with used oil from oil barrels as a final, say, farewell to the closing business. It took ten gallons of degreaser to get rid of everything, and apparently there is still a bit of oil hiding in the nooks and crannies if you look hard enough.
We ascended the staircase to get a pint of Weeki Weisse Blackberry (Berliner Weisse, 4.2% ABV), a great and sharply tart Floridaweisse with a fantastically sweet and fresh-tasting blackberry quality.
Above me, speaking of barrel aging, was the 2016 barrel of their Spring Release. This insanely rare barrel spends a few weeks aging underwater in the freshwater spring located on the property of one of their regulars. It sounds to be an interesting experience; I'm hoping I can make it there again for a tsting of their next batch.
The last few beers I tried was (on the left) Coquito (Spice Beer, 6% ABV), an incredibly sweet beer burstng with lactose, cinnamon, and all of the creamy good flavrs you expect from this traditional drink, and Mo Say It (Pale Ale, 5% ABV, 35 IBU), a classic, clean, nicely hop forward and resiny pale ale. I'll give you a guess as to what the prominent hop used is.
Maurice brought over a final sample, a bit of a dare, with Meet the Heat (Saison, 6.5% ABV), an interestingly kicked up saison with a well rounded and meaty raspberry note and just enough cayenne pepper to make it warming, not hot sauce.
That's a small sample of everything Marker 48 can do. In both beer and hospitality, this fantastic little brewery in the middle of mermaidland packs quite the punch, well worth the drive up for anyone wanting a solid, quality craft beer experience. There's a lot of good stuff happening, and I'd like to thank Gerard, Maurice, Tina, and John for all of their warm welcomings. Go. And get one of those passports while you're at it.
I'm sure you'll see plenty of mermaids when you're there.
Drink Florida Craft,
Dave
floridabeerblog@gmail.com
A Top 35 Global Beer Blog from Sparpedia.ch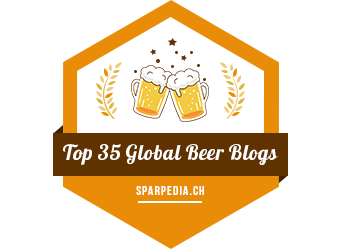 A Top 40 Florida Blog from Feedspot.com